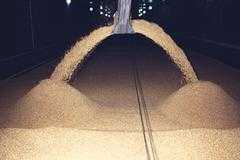 In a Delayed Price Contract, the seller delivers the grain to the buyer and is issued a contract. The seller of the grain can then price the contract at any point in the future. This type of contract allows the seller to deliver the grain at their discretion, but wants to be able to price the grain at a later date. The seller believes that the price of the grain will rally in the future.
Typically, there is a storage fee (or a similar charge) per month for grain held on this kind of contract. Normally, the title to the grain will transfer to the buyer upon delivery of the grain.
Advantages:
Ÿ Seller can deliver the grain at their convenience
Ÿ Seller can price the grain later, allowing them to take advantage of market rallies
Ÿ Income is deferred until time of sell (put in another tax year)
Ÿ May eliminate sellers risk of grain quality deterioration depending on time of delivery
Disadvantages:
Ÿ Seller does not get paid until contract is priced.
Ÿ There is no price protection if the market declines (instead of rallies)
Ÿ Usually, the seller must pay a "storage" fee until the grain is priced.