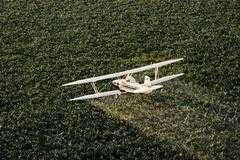 A Minimum Price Contract allows the seller the ability to set a specific minimum price for their grain, but allows them to participate in a price rally. In this case, the seller is protected against lower grain prices, but can still improve their selling price if grain markets rally. The quantity, minimum price and delivery period are set in the contract. The contract will also lay out the time period during which the seller can take advantage of increased market prices. Title to the grain is passed to the buyer upon delivery.
Advantages:
Ÿ Risk of price decline is eliminated.
Ÿ Seller can take advantage of price rallies during the time specified on the contract
Ÿ The minimum price is guaranteed and paid in full completion of delivery.
Ÿ Risk of quality deterioration is passed to the buyer at time of delivery
Disadvantages:
Ÿ There is a premium that is incurred by the seller to use this type of contract, therefore, the minimum price that is guaranteed is normally a discount to prices that can be received if the seller where to simply sell the grain.
Ÿ Use of this contract does not allow for trading in and out of markets because delivery is expected.
Ÿ The futures market may never increase enough to recover the premium that spent.